3.2 Types of weave
The inaccessibility of the original canvas may also explain why the study of the canvas support of Dutch seventeenth-century paintings is of relatively recent date. Prior to the first examination of Vermeer's canvases in 1998, research had been conducted on paintings by Rembrandt (1606-1669), Frans Hals (1582/1583-1666), Johannes Verspronck (1600/1603-1662) and on paintings in the collection of the Centraal Museum in Utrecht.1 This research started only when X-radiographs of large paintings became available in the mid-1950s. At that time, there were several initiatives to make X-radiographs of Rembrandt's large paintings in Stockholm, Amsterdam and Paris.2  Previously X-radiographs of Rembrandt paintings had been made from the mid-1920s onwards, but only of small paintings and details of large paintings.3  The most spectacular X-radiograph, made in Stockholm in 1955, is of one of Rembrandt's largest paintings, the Conspiracy of the Batavians under Claudius Civilis. This painting in the Nationalmuseum in Stockholm, which now measures 196 x 309 cm, is only a fragment of the monumental picture which Rembrandt originally painted on commission for the Amsterdam Town Hall in the early 1660s. Originally the painting was circa 550 x 550 cm, but it was cut down at an unknown point in time. In the 1950s it was generally believed that Rembrandt himself had reduced the painting in size directly after its removal from the Town Hall in 1662. 

While the original canvas of the Claudius Civilis had been removed during a relining in the eighteenth century, the X-radiographs revealed – thanks to its imprint in the ground – that the support, used by Rembrandt, was a canvas with a special kind of twill weave, commonly called herringbone. Van Schendel (1956) explains that this type of weave is very unusual among Dutch seventeenth-century paintings in general, and Rembrandt's canvases in particular. It occurs in some of Rembrandt's late paintings, all made in the early 1660s: the Syndics (1662), the Portrait of a Family (circa 1665) and the pair of portraits of a Man with a magnifying glass and a Lady with a pink (first half of the 1660s). Because of a similar appearance at first sight of these canvases, Van Schendel put forward the hypothesis that some of these paintings, particularly the Syndics, may have been painted by Rembrandt on some of the large pieces of canvas which were cut off the Claudius Civilis. A structural analysis of the weave scheme, made at the request of Van Schendel by textile laboratories in Delft and Stockholm, did not confirm this supposition. The canvas of the Syndics is a zig-zag twill weave repeat of four picks and 24 ends, while the canvas of the Claudius Civilis was a zig-zag twill with repeat of four picks and sixteen ends [1].4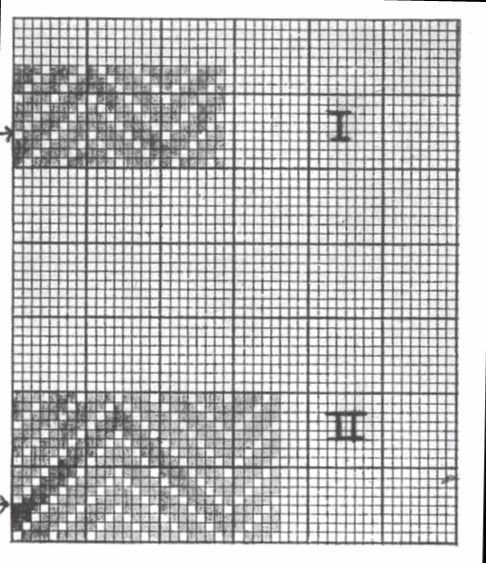 1
Illustration from Van Schendel's 1956 article with weave design of the twill of the Conspiracy of the Batavians under Claudius Civilis (Nationalmuseum, Stockholm) (I) and of the Syndics (Rijksmuseum, Amsterdam) (II).
---
Notes
1 N. Costaras, 'A Study of the Materials and Techniques of Johannes Vermeer', Vermeer Studies. Studies in the History of Art 55 (1998), pp. 145-167, esp. pp. 145-151; K. Groen, and E. Hendriks, 'Frans Hals: a Technical Examination', in: S. Slive (ed.), Frans Hals, exh.cat. Washington, D.C. (National Gallery of Art)/London (Royal Academy of Arts)/Haarlem (Frans Halsmuseum) 1989, pp. 109-127, esp. pp. 111-114; E. Hendriks, K. Levy-Van Halm, in collaboration with J.R.J. van Asperen de Boer, Report concerning a preliminary technical investigation of paintings exhibited during the Frans Hals exhibition, held from May 11 to July 22, 1990 in the Frans Hals Museum, Haarlem, Haarlem 1991, pp. 4-11; E. Hendricks, 'Johannes Cornelisz. Verspronck. The technique of a seventeenth century Haarlem portraitist', Leids Kunsthistorisch Jaarboek 11 (1998), pp. 227-267; M.E. Houtzager et al., Röntgenonderzoek van de oude schilderijen in het Centraal Museum te Utrecht, Utrecht 1967.
2 M. Hours, Rembrandt: étude photographique et radiographique, Paris 1955; C. Nordenfalk, 'The new X-Rays of Rembrandt's Claudius Civilis', Konsthistorisk Tidskrift 25 (1956), pp. 30-38; A. van Schendel, 'De schimmen van de Staalmeesters', Oud-Holland 71 (1956), pp. 1-23.
3 A. Burroughs, 'New illustrations of Rembrandt's style', The Burlington Magazine 59 (1931), pp. 3-10.
4 A. van Schendel, 'Notes on the support of Rembrandt's Claudius Civilis', Konsthistorisk Tidskrift 25 (1956), pp. 38-42.